It's all good hearing from us, but it's our clients that tell the real story. Read some of our testimonials below and if you would like to speak to a previous client just reach out and we will put you in touch.
"You won't be disappointed!"

"It was an easy decision to say yes to putting a testimonial together for GD Pringle Building as building with George was seamless and easy. I had heard many bad stories about building houses and things going wrong and as this was our first build, we were a little tentative. George though did a great job easing our minds and helped made the big decisions seem small. It seemed his favourite saying was "sure not a problem" if we needed anything changed or questions needed answering. The end product was amazing, finishing was perfect, and I can honestly say I was a very happy man when I got the keys to take over our new house. I have no hesitations recommending George and I would happily build with him again. You won't be disappointed!"
– Blair and Seah Taylor
"We couldn't ask for anything more"

"George and his team were excellent to deal with at all stages. George took our project to heart and has a great eye for the details. Our renovation come in on time, on budget and has been completed to the highest of standards. We couldn't ask for anything more. Thanks GD Pringle Building!"
– Paul and Jo Gascoigne
"We would not hesitate in using GD Pringle"

"GD Pringle Building completed a full renovation of our house.  
We found George, his building team and office personnel, to be very easy to deal with, considerate, helpful, and their work was to the highest standard.  Nothing was ever a problem.  All the sub-contractors who George employed to work on the job were similarly great to deal with.  We had never built or renovated a property before, so we relied on George and his builders to guide us through the process and they were forth coming in their suggestions and practical solutions. It was not the stressful process that you hear a house build can be. To be honest we found it enjoyable and exciting as we watched things progress. As we both work full time, we were very reliant on George and the team's expertise and felt very comfortable with any decisions they made or guided us through. The job was finished on time and on budget and through the app provided, the scheduling and progress payment instalments were easy to keep track of.
We lived in temporary accommodation on the site during the 7-month construction, so we got to know all the team well over that period, as did our children and family dog.  They were great to have around, even the one from Australia. 
We love the end result.  If we built again, we would not hesitate in using GD Pringle Building, and happily recommend them."
– Nick and Katy Dawson
"George is an excellent builder"

"When looking to engage a builder we asked around for a local builder and George came highly recommended to us from a number of people.
George is an excellent builder, an honest, highly skilled, meticulous tradesman, whom clearly demands very high standards of himself, his team and local sub-contractors.
George was always accommodating to our needs, with our home being built on time and on budget.   All of which made the building of our home a real positive personalised experience.
We would not hesitate in recommending George and his team for your building endeavours for a quality job that you will be proud to call your home.
 Thank you George and your team"
– Lyn & Paul Lawrey
"We definitely feel that we chose the right builder"

"Evgueni and I would like to thank you and your team for helping us achieve our dream home.
Prior to meeting you, we had shopped around and visited many different builders and show homes often leaving feeling confused and frustrated. We especially felt uneasy to work with companies where the cost is hidden.
Your quote was competitive, and the final bill was in keeping with that. You kept us fully informed all the way through how the costs were going.  Inevitably, with every build project, a few unforeseen issues and changes arose, and these were dealt with promptly and professionally.
Your attention to detail, energy and enthusiasm you put into your work were relieving for us both. We especially praise you for your excellent communication through phone calls, emails, text messages, site visits and weekly progress reports and photos so that we always know what was happening and what was to come. Any questions that we had were answered promptly.
The quality and finishing of the build more than met our expectations and we are very proud of what has been achieved.
We definitely feel that we chose the right builder and we have no hesitation in recommending George Pringle to anyone interesting in building a house and will ask for his service ourselves if we build another house."
– Evgueni and Natalia Gavrilova
"
We would like to thank George and the team for the successful build

"

"We would like to thank George and the team for the successful build of our new offices.  Despite the complexities of the build, the skill and professionalism of everyone involved made the process feel very smooth and straight forward.
We were able to continue operating from site with minimal disruption and the site was always left tidy. The customer portal was always kept up to date and was extremely useful for keeping track of where the build was up to, which trades were coming on a given day and the build cost. Communication from George was excellent, and he was always available to discuss any questions we had.
A little way into the build George found a way to save us some money on the build. George was able to break down exactly how much, which we then asked for quotes on up grading our kitchen and extra aircon unit in the lunchroom. Both were accepted through the app George uses and he organised them for us.
People always comment on how great the building looks. We would recommend GD Pringle Building without hesitation to anyone embarking on a new commercial or residential build."
– Aaron and Kelly Redman
"We confidently commend GD Pringle Building "

"We confidently commend GD Pringle Building from our experience with them when they built our home which had its fair share of challenges!
They offered suggestions and solutions both practical and cost saving where necessary for the best outcome.
Despite setbacks and unforeseen delays, they perused with care and an ownership-mindset ensuring we got a quality home as and end result.
With George's upfront hard work ethic and discipline gained from his service in the NZ Army to his friendly accountable Forman team and builders on the tools we found them all very Approachable, Adaptable Clever, Hardworking & Diligent – great attributes to compliment what you purchase when you choose these guys to build your (likely) biggest personal investment"
– Christopher & Georgina Hoyle
"I've renovated my house twice now"

"I've renovated my house twice now. The first time it was one of those typical service people disasters that we all hear and read about. The second time was the exact other end of the spectrum. At our first site meeting George built a comfort bubble around me and that lasted to the end of the project. George and his team made this exercise a simple and stress free one. Yes, we struck issues, all related to the state of the original building. George's team dealt with every eventuality professionally and expertly. The care shown by his builders and subbies was quite remarkable – in fact, at times they seemed to care more about getting the best outcome than I did. The result is a house that I love and am proud to have my friends visit. I recommend GD Pringle Building (in fact I already have) to anyone who wants their project to be in the safest of hands. And I'm happy to confirm that for anyone considering GD Pringle Building."
– Murray Pedley
"George and his whole team were wonderful"

"George and his whole team were wonderful. They built a substantial extension around us and they created the place of our dreams! Exactly what we wanted and imagined. George and the team were all delightful, highly competent and creative trades people. They communicated so well at least daily, often more and certainly whenever we needed. They were polite, thoughtful, careful and resourceful.
Thanks George and your whole team for bringing our dream home to life!"
– Andrew & Julie Baines
"No hesitation in engaging George's services again"

"We partnered with George and his team at GD Pringle Builders to transform The Henley Hotel in Cambridge to an expanded and updated thoroughly modern country hotel.
From our initial meeting with George right through to completion of what is now an absolutely stunning property, it was a collaborative process. We felt the project was in safe hands when absent from site and George was outstanding at keeping us updated on progress and when obstacles did present themselves, there was always a workable option presented. His team of builders were professional and a pleasure to have on site. George was also adept at dealing with our architects, council and the many complex compliance issues that face a commercial build project.
We have been involved in many building projects and would highly recommend George and his team and would have absolutely no hesitation in engaging George's services again."
– Darryn and Brent
"
We would highly recommend GD Pringle Building Ltd

"

"We would highly recommend GD Pringle Building Ltd for your future home. We have been so pleased with the high standard of workmanship of George and his team and he made our first experience of building a much easier process than we imagined.
George demonstrates professionalism, attention to detail and an approachable, easy going manner. He was happy to show us some of his previous builds to view his work and give us an idea of design elements and materials as we progressed. He also had innovative suggestions and advice in terms of making our ideas work and adapting to challenges.
George managed all of the subcontractors and ensured that their work was of a very high standard. He was happy to liaise between us and attended all decision-making meetings when they occurred.
We were always welcome on the building site and George and his team were happy to answer any questions or concerns that we had. He was always easy to contact and would regularly keep us informed about progress. Communication is a real strength for George.
We have no hesitation in recommending George to anyone interested in building a house."
– Scott and Sarah Monkley
"
We certainly proved that G D Pringle Building's reputation

"

"We certainly proved that G D Pringle Building's reputation for attention to detail and quality finish was very well-deserved.  
George and his team were excellent to work with – well-organised, reliable, and always completing all tasks to perfection.
Their ability to be creative and think outside the square to solve a problem was outstanding – we fully recommend GD Pringle Building!"
– Jeremy And Tammy Dunn

Own It
GD Pringle Building takes an Own It policy to the whole project; the good, the bad, and the ugly. We understand this a huge investment for you, but it is a huge investment in our time and resources as well. There is a no better feeling than taking design on drawing and turning it into reality.

Attention to Detail
Our team takes great pride in our quality and workmanship. Our attention to detail is outstanding, and we have developed proven systems and a quality checklist to ensure your job runs smoothly and is of the highest standards.

Communication
GD Pringle Building strives to provide open communication between clients, sub-contractors, and builders. Transparent communication ensures that all parties are well informed and on the same page, and the project runs well and to a high standard. We are not afraid to have the courageous conversations when required.

Teamwork
There is no "I" in Teamwork. It takes the whole crew, from the apprentice on-site to the Project Manager, to deliver a successful project. We cannot achieve this without the collaboration of the clients, sub-contractors, and suppliers.

Continuous Improvement
We are passionate about training our staff. All our apprentices are training for the trade certificate. As they move through their building career, we encourage them to carry on with further education. With this continuous improvement in mind, we review our process at the end of each job and make the required adjustments to make sure we are giving our clients the best possible service.
​WHAT ARE THE NEXT STEPS FROM HERE?​

Request a FREE Consultation
The first step is to have a 100% FREE no-obligation consultation with George. Whether you're just starting to plan or you're nearly ready to start your build, we can help you out.

Receive a FREE gift*:
A professional clean of your home valued at $1,000 leaving your home sparkling and ready to enjoy.
*When you decide to contract GD Pringle to work on your project.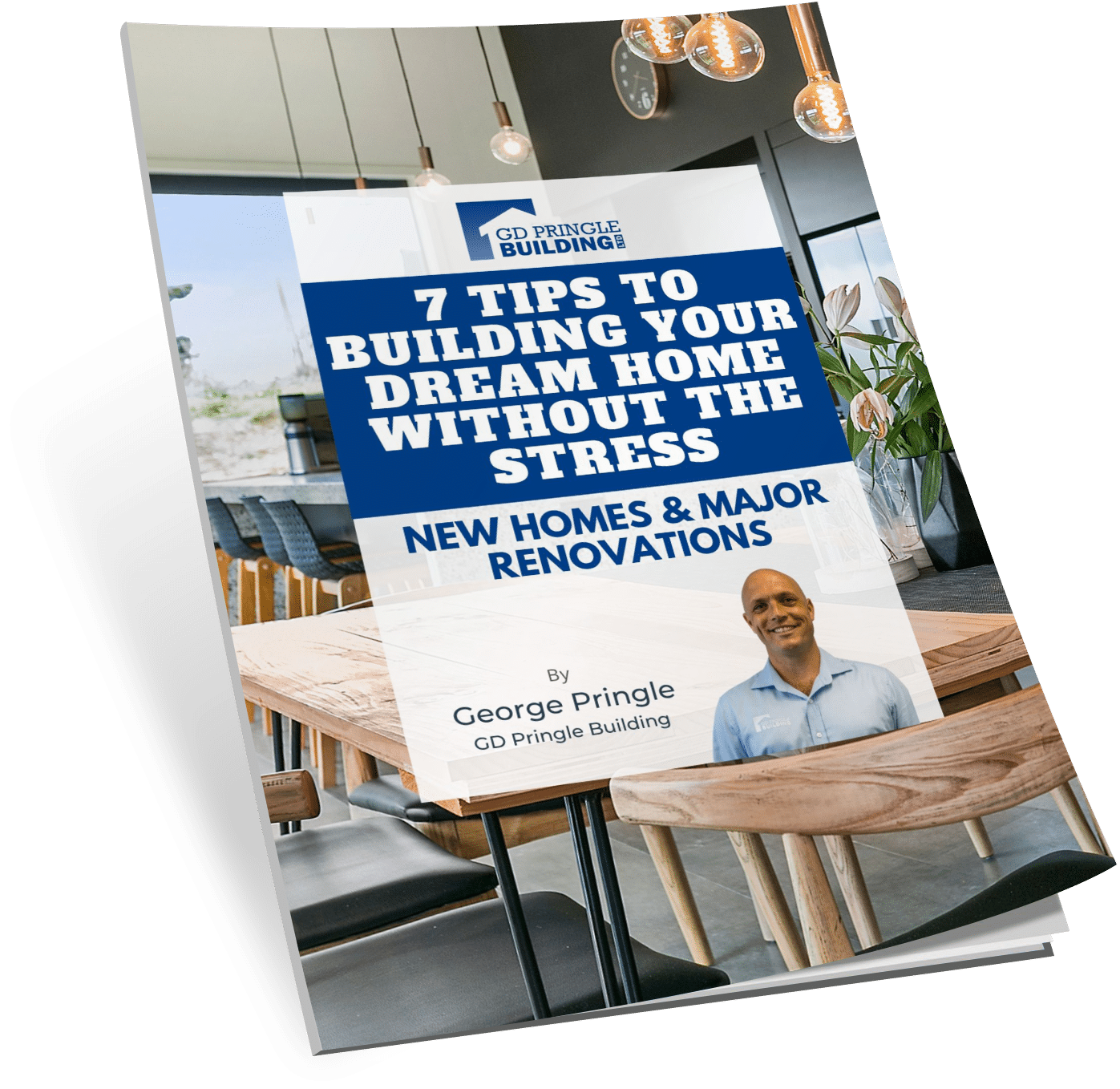 Request a consultation
Our director, George Pringle, will personally conduct the session, which is normally valued at $300. However, we are offering the session FREE to people that are seriously considering building a dream home to help them make informed decisions towards the next step.