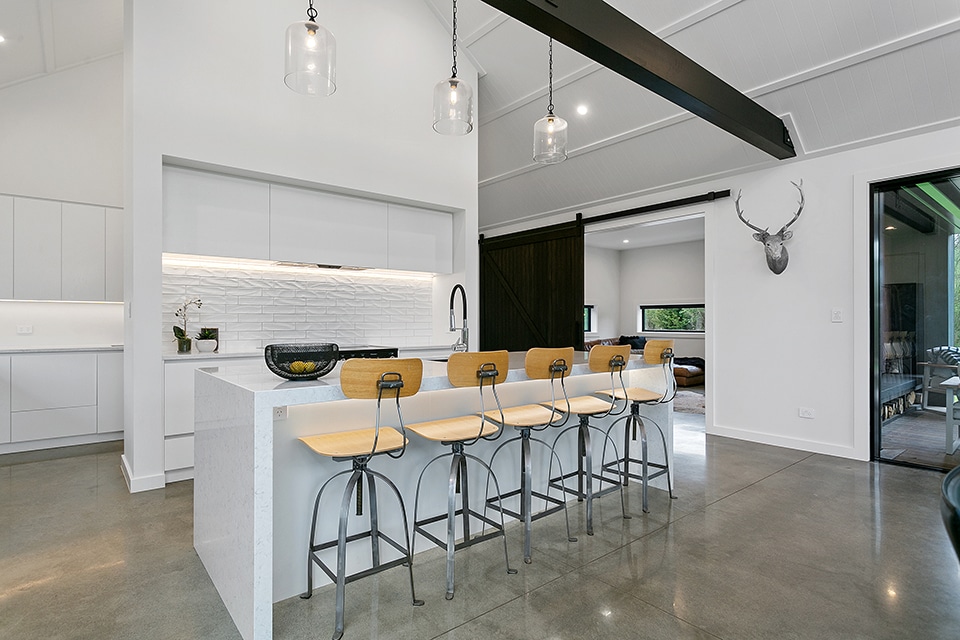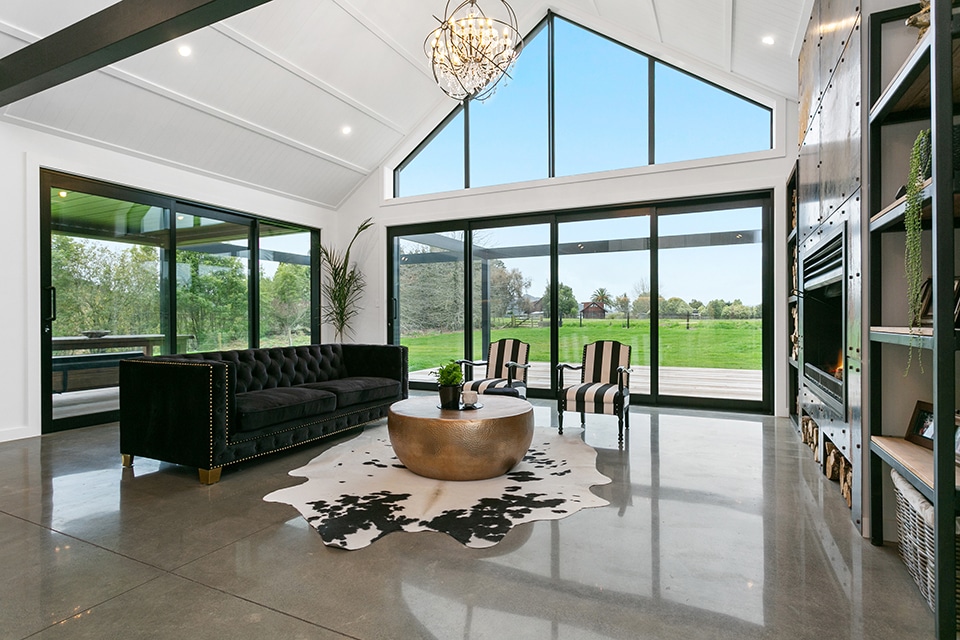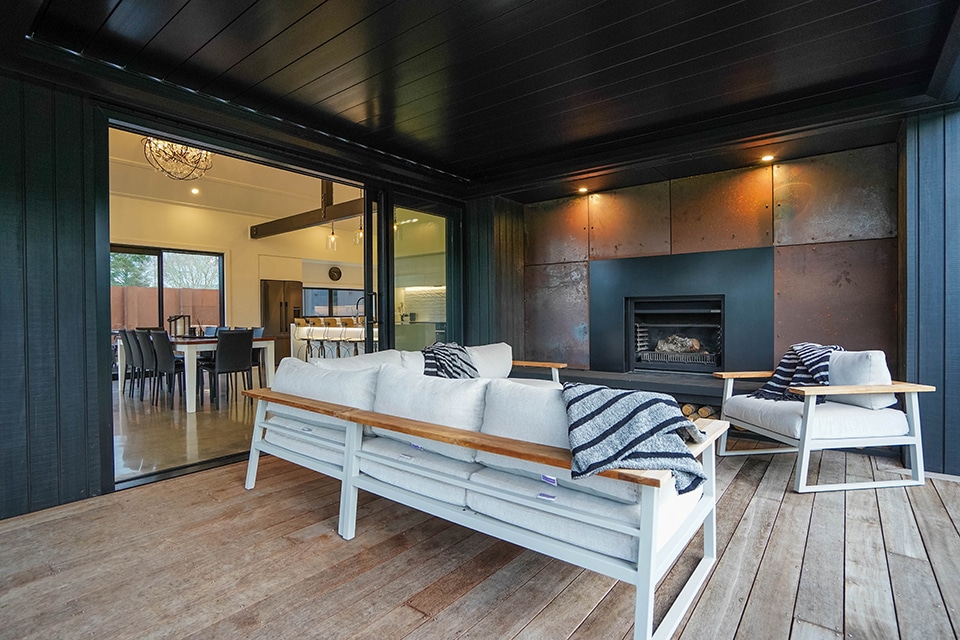 Monkley Residence
This barn styled home is a black beauty in its country surroundings. 
The Abodo vertical cladding provides this simple timeless look with exterior Corten feature walls concealing the service area and provides a private morning relax area of the kitchen/ dining area.
The entrance is the interconnecting link separating the living and bedroom areas, with an oversized glass pivot door.
Polished concrete floors with a salt and pepper finish and carpet in the bedrooms, for extra comfort and warmth there is under floor heating throughout the house.The main living area is an open plan layout with a high raking ceiling and large exposed trusses breaking the room into the kitchen, Dining and living areas. The feature of this space is the large Warrington open fire with a Corten surround. Large sliding doors open on to multiple outdoor spaces including a covered louvered area with an outdoor fireplace.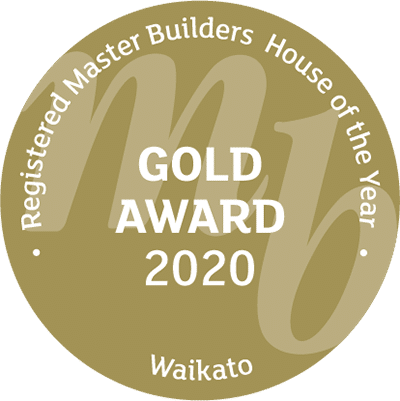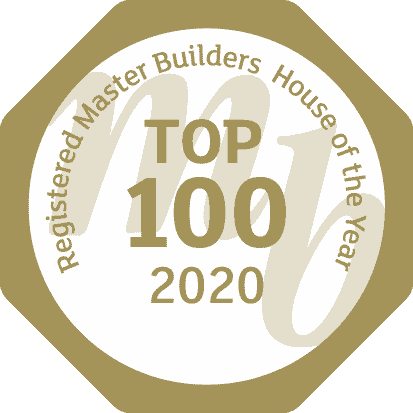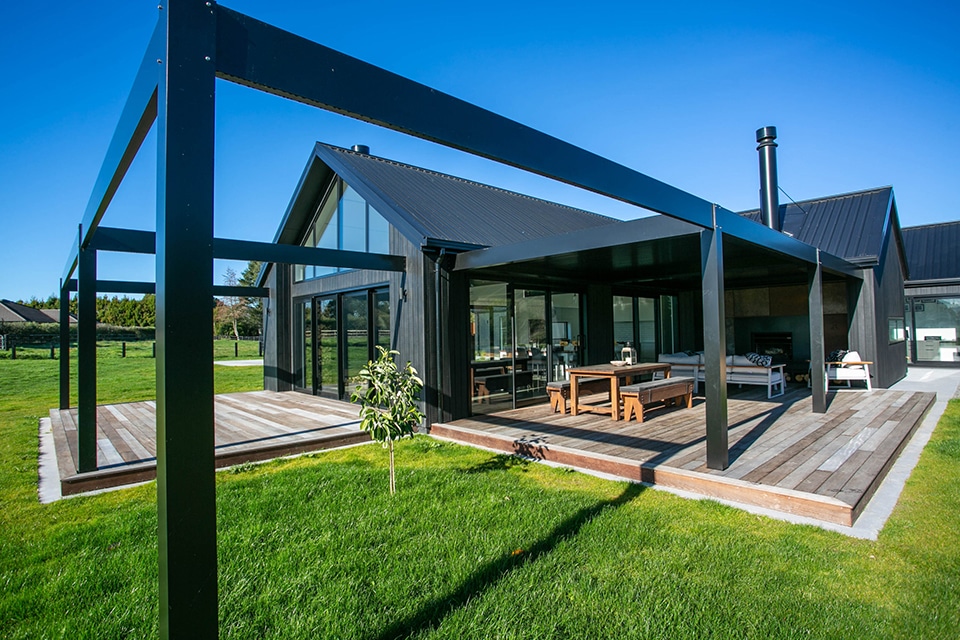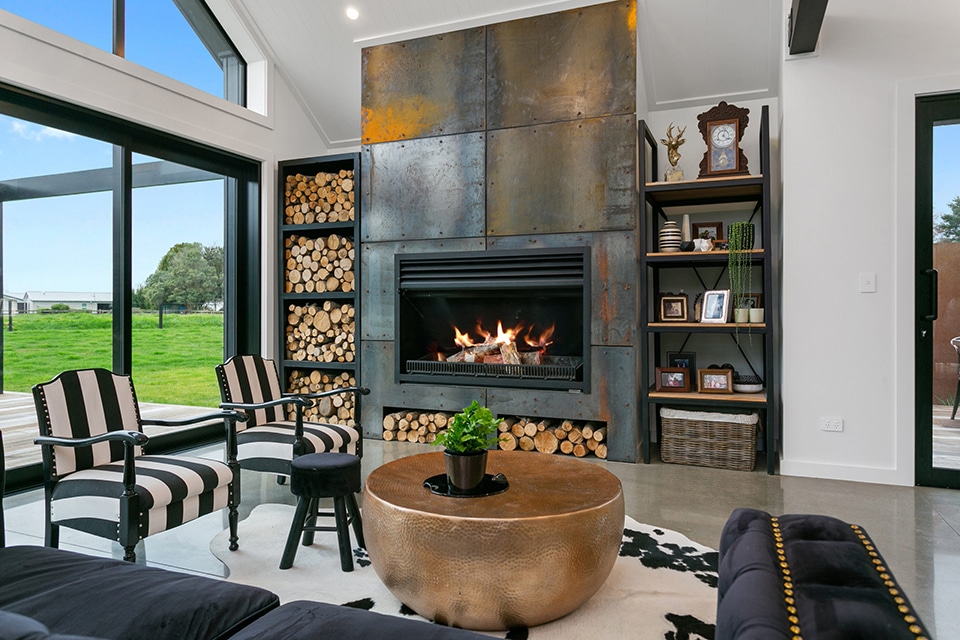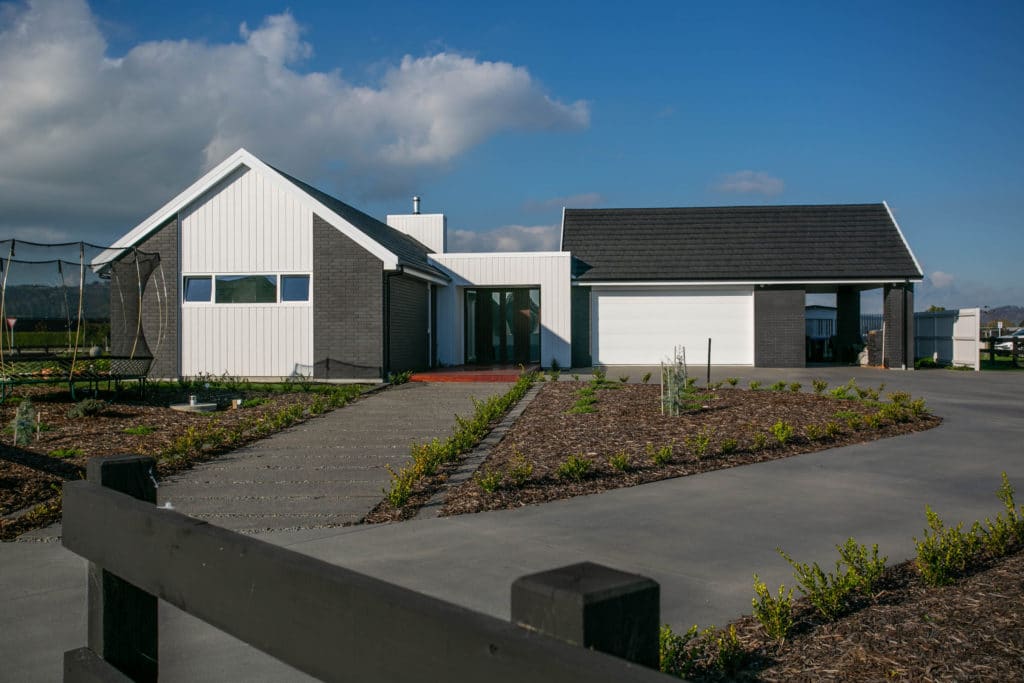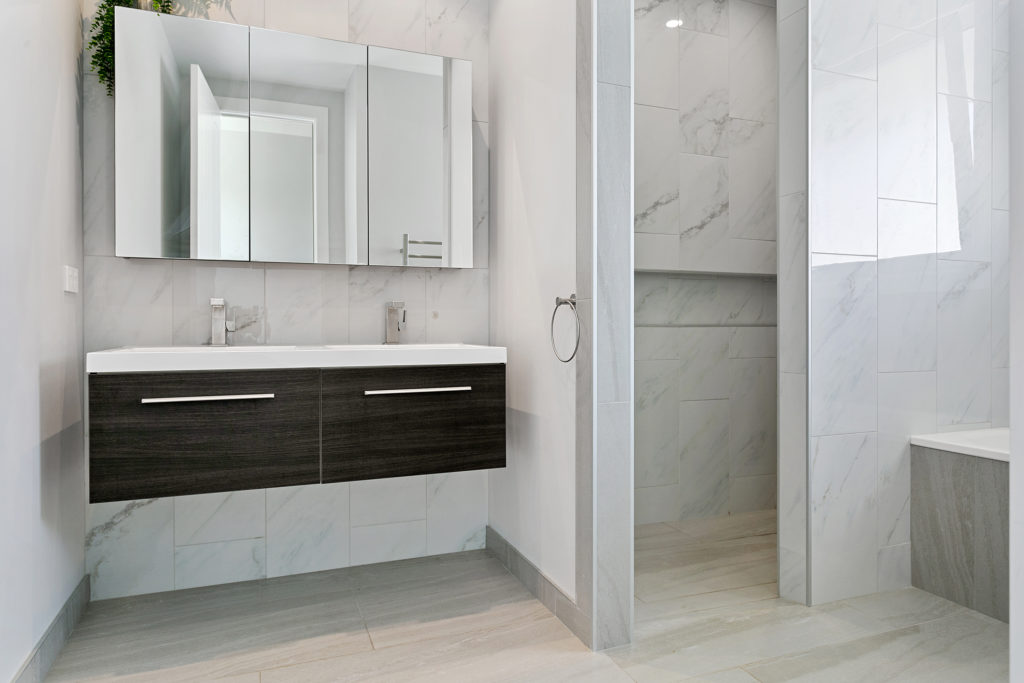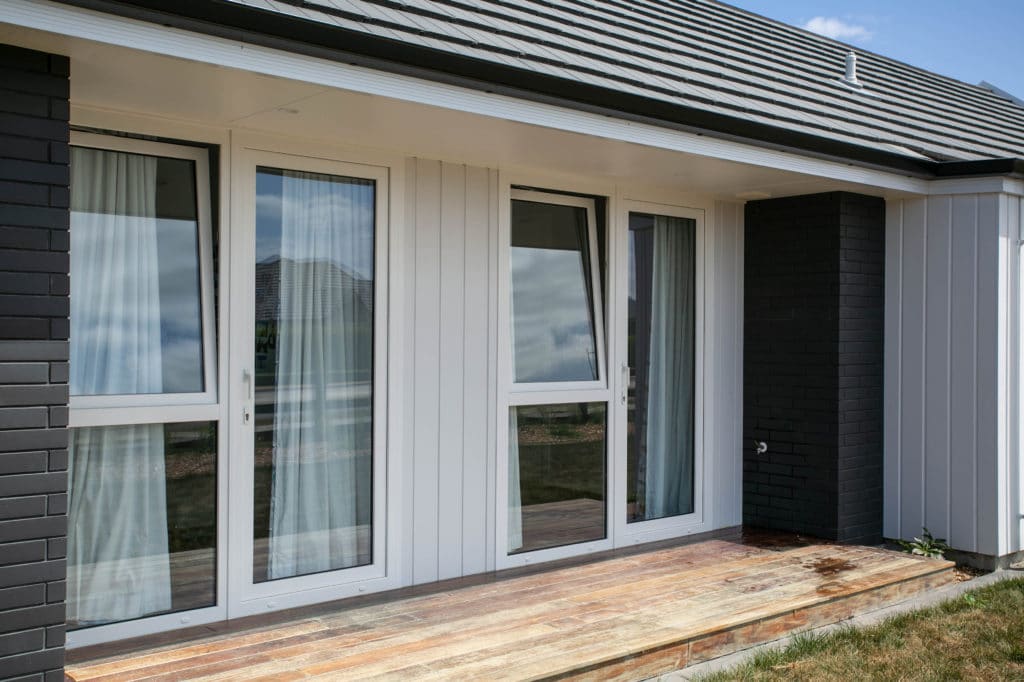 Gavrilova
Being a corner section, this home is designed to catch the sun all day.
The exterior of this house uses a perfect black and white contrast between the black concrete tiled roofing tiles and Euro Largo Mora bricks with the white PVC-U double-glazed joinery and Hardies vertical oblique weather board.
The front door is the interconnecting link between the garage and the living area. The main living area has three recesses in the ceiling, defining the kitchen, dining and living areas on an open plan layout. The main feature in this home is the modern looking Envirosolve Bionic freestanding fireplace in front of the brick wall matching the exterior. Large sliding doors easily open on to a north facing purple heart deck or a concealed enclosed courtyard.
The main flooring is a 900x450mm 1/3 offset tiling pattern which runs from the entrance through the living room and all the way to the other side of the house over 200m2 in total. This home has underfloor heating to thought out the home for extra comfort.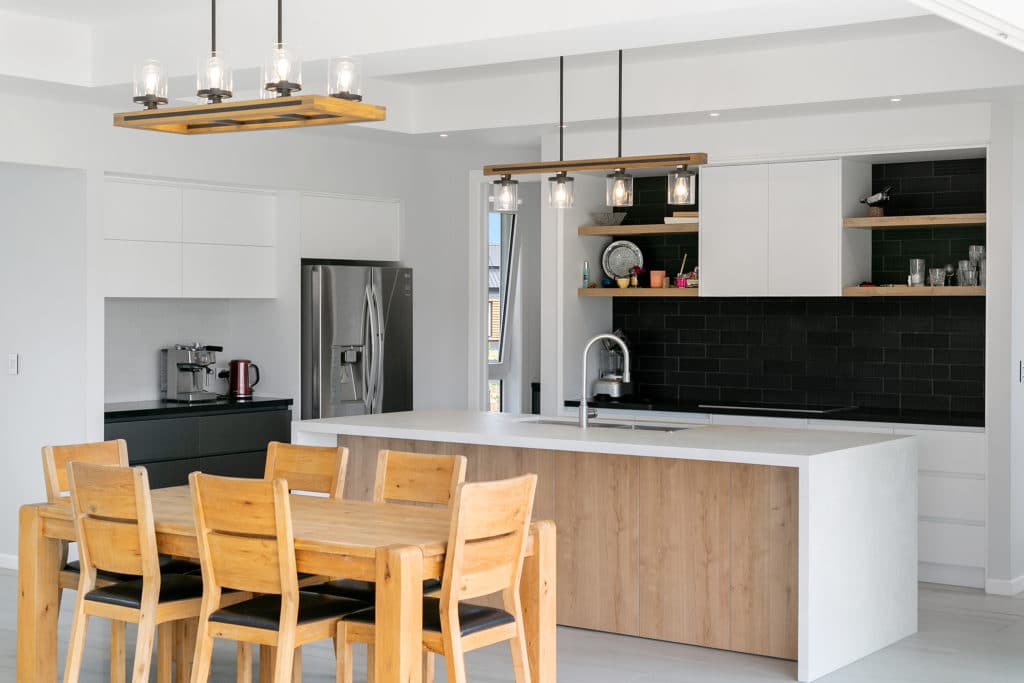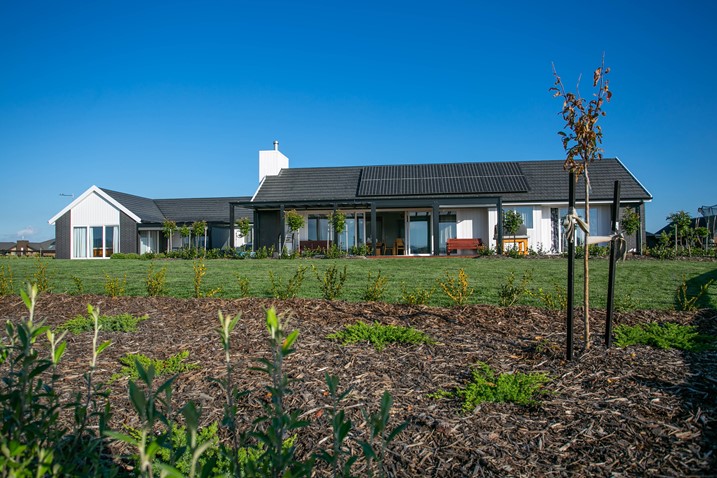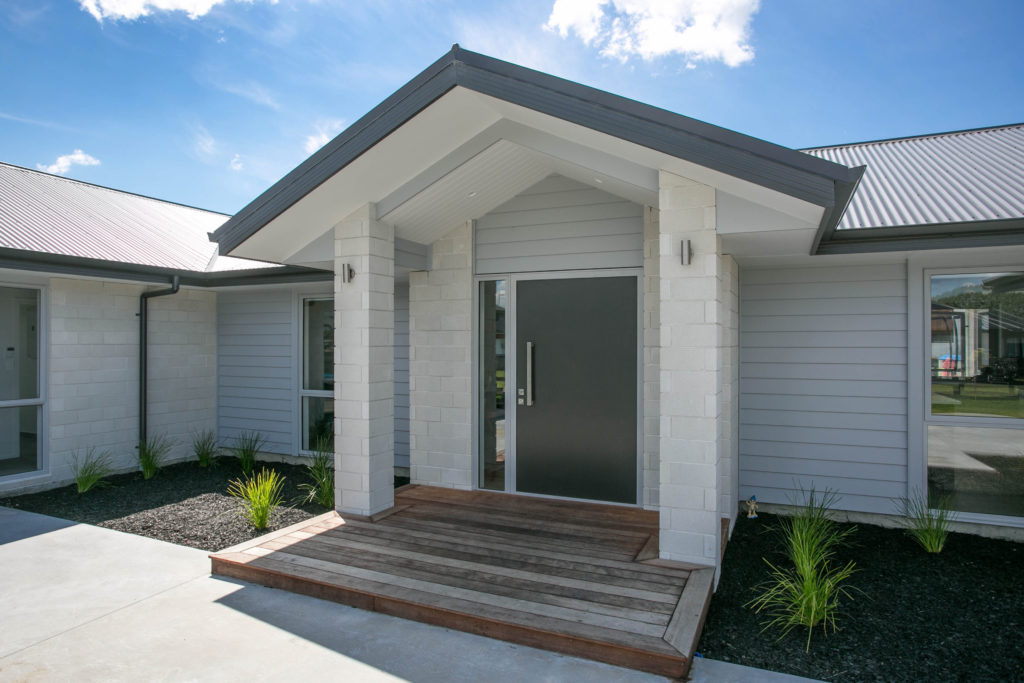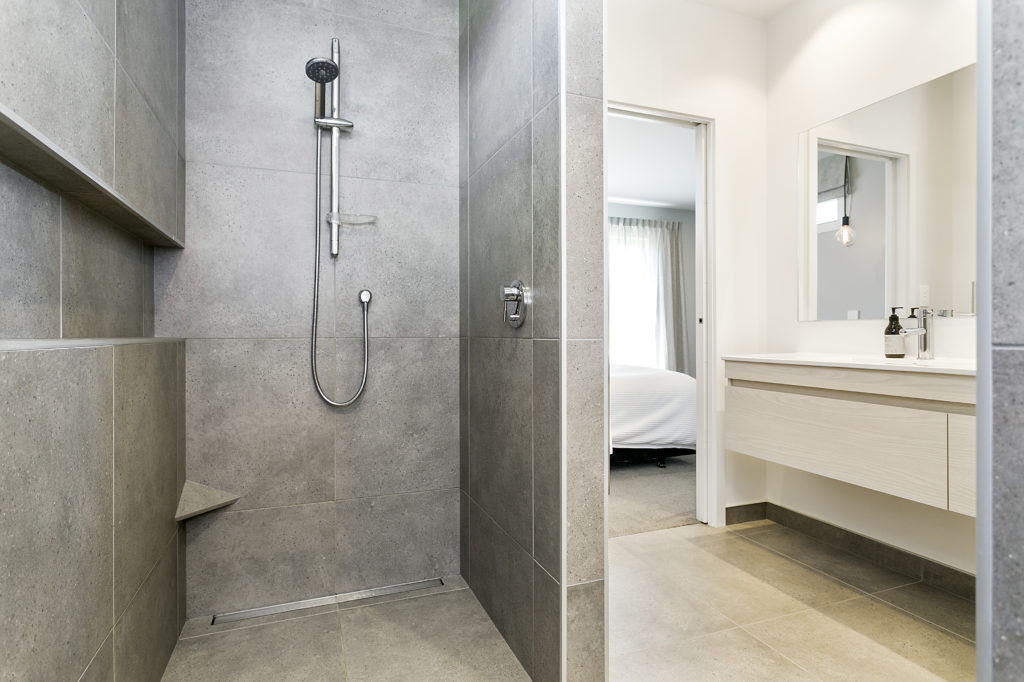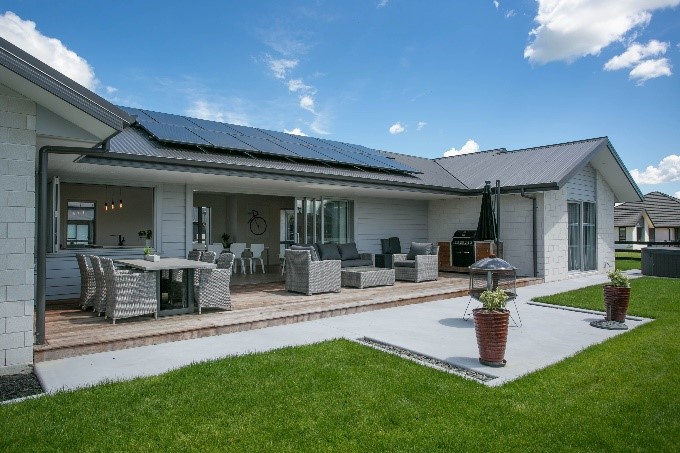 Taylor Residence
The home was build on a large 1688m2 section which has allowed for plenty of space outside for children to run around.  The St Kilda Subdivision features two wetland areas with native trees and plants and 16kms of walking and cycling tracks making this home a fantastic place to bring up children.
The north facing 261.72m2 family home is clad with White Country Brick and features linea weatherboard as a contrast with long run iron roof.  The layout of the home took into account open plan family space and created a central point for them to come together.
The home was designed with a young family in mind. A nice open plan kitchen, dining and living area Large stacker doors open to a Kwila deck giving it a nice indoor/outdoor flow and making the deck an extension of the dining area.
The Sustainable design in the home features, Solar panels ,Rain water collection and Mammoth polyester wall and ceiling insulation which is a minimum of 20% above current New Zealand Building Code specifications.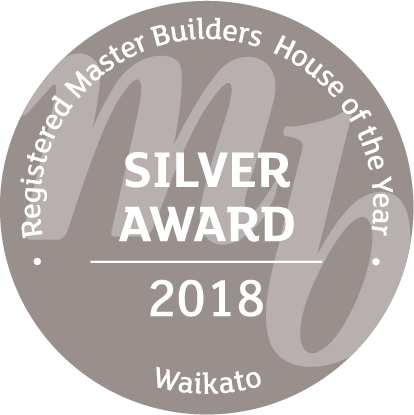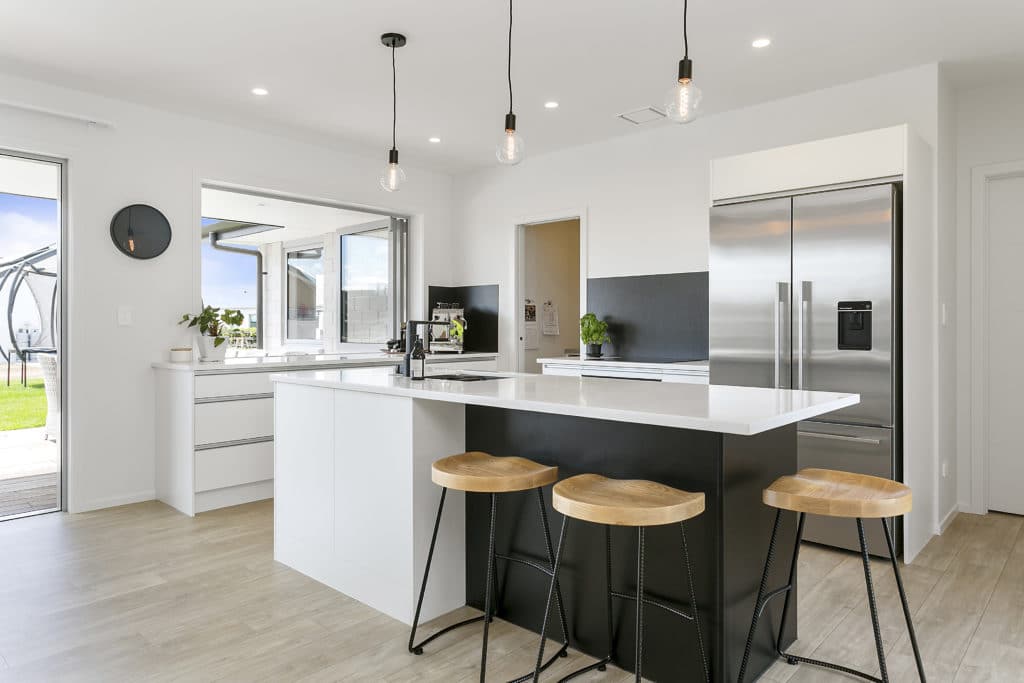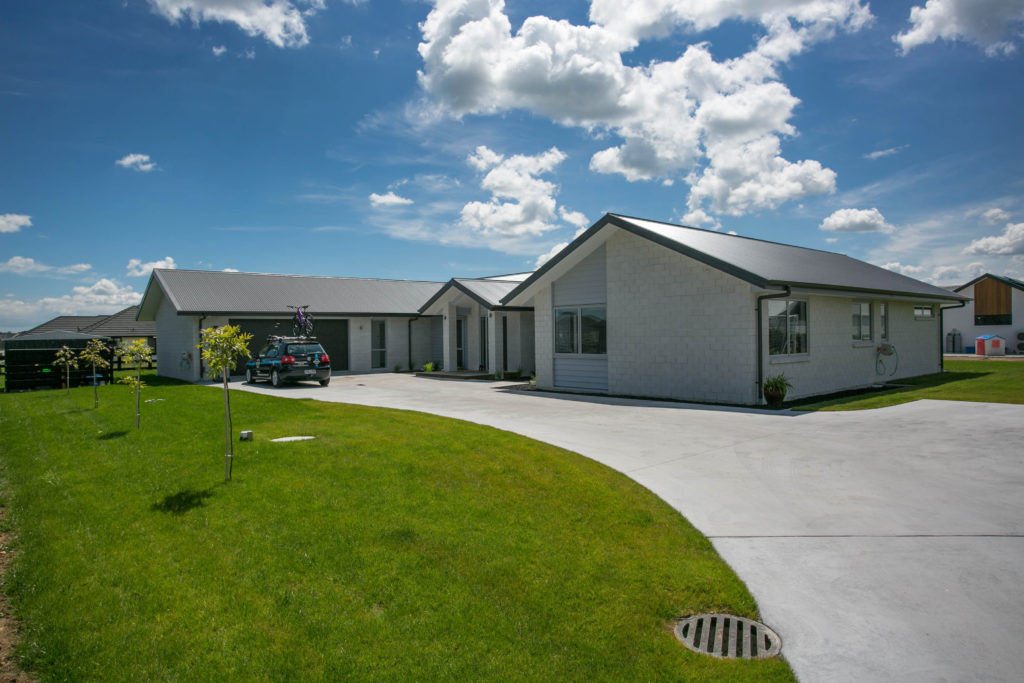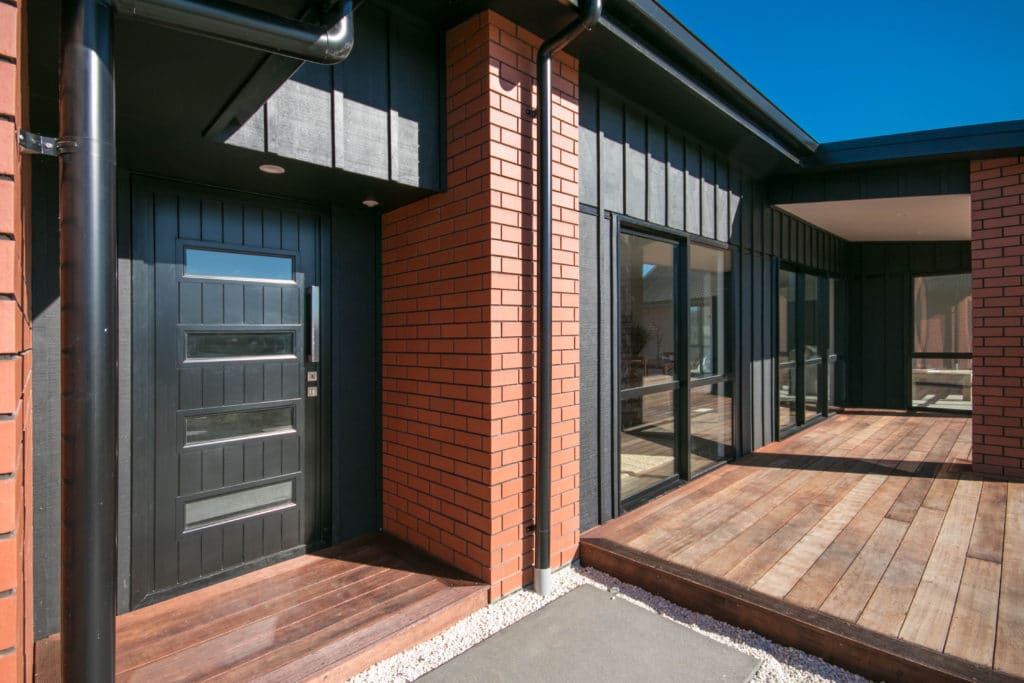 Kowhai Drive
Expansive living zones revolve around a socially positioned kitchen that fosters full host/guest engagement while a second living area may be closed for intimate gatherings, or thrown open for larger get-together s. Alfresco living is catered for with free flow to Kwila decking that enjoys a great day-long sun aspect with tri-way access from dining, living and master. All four bedrooms (three double and one single/office) are serviced by a well-appointed main bathroom while the master features the additional benefits of an elegantly tiled ensuite and walk in wardrobe.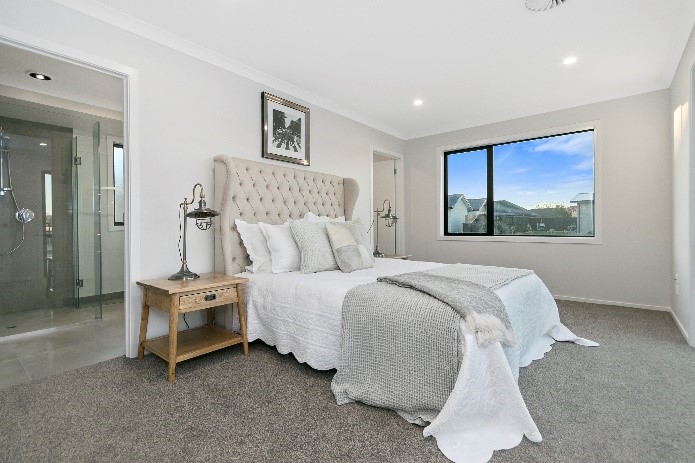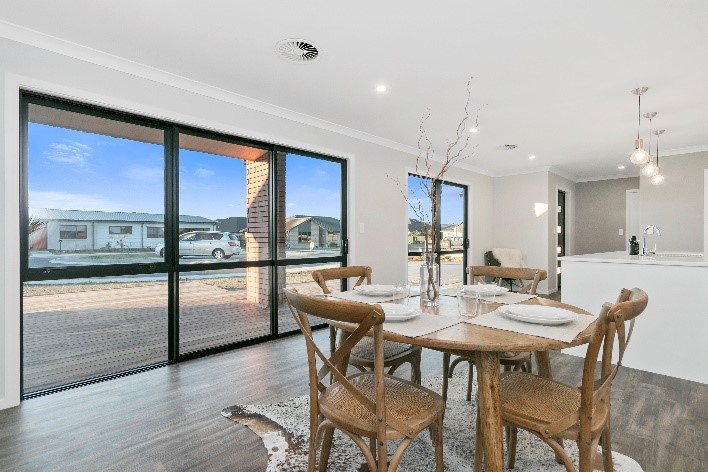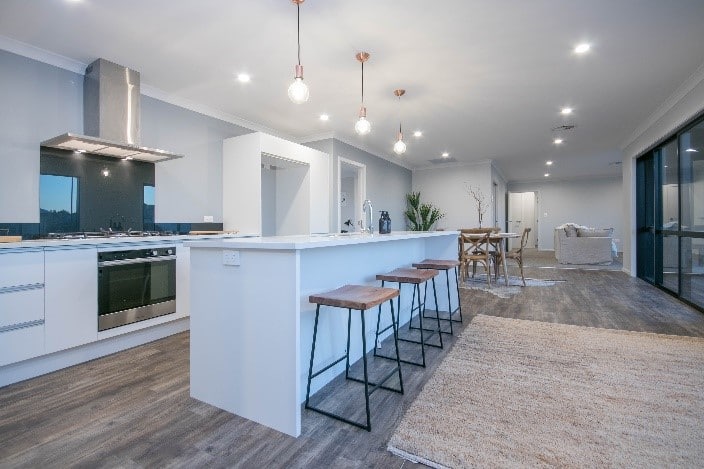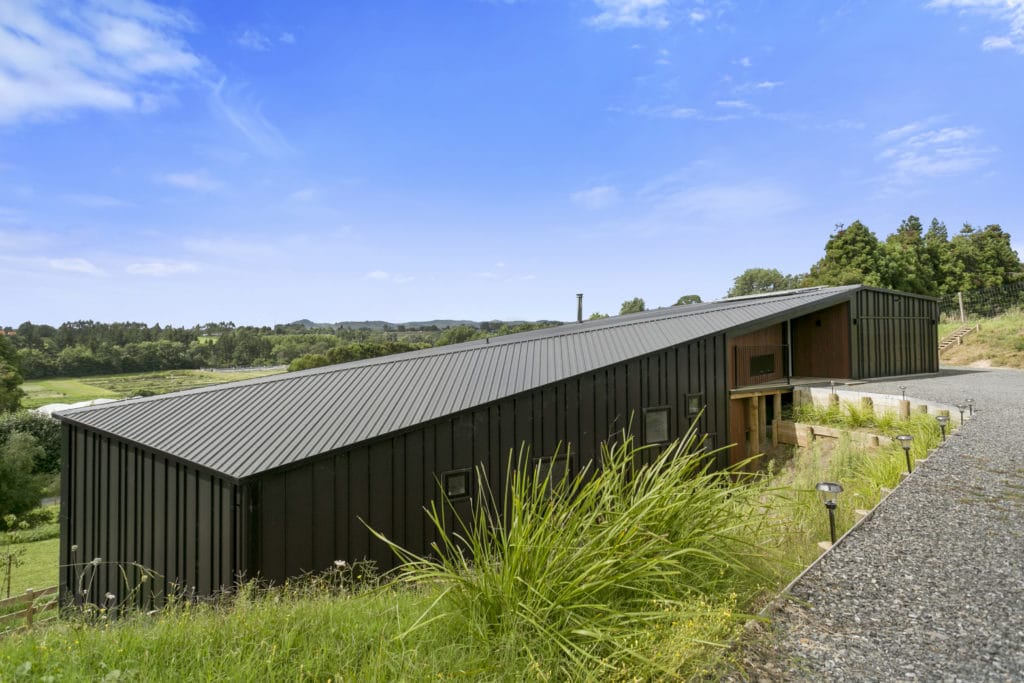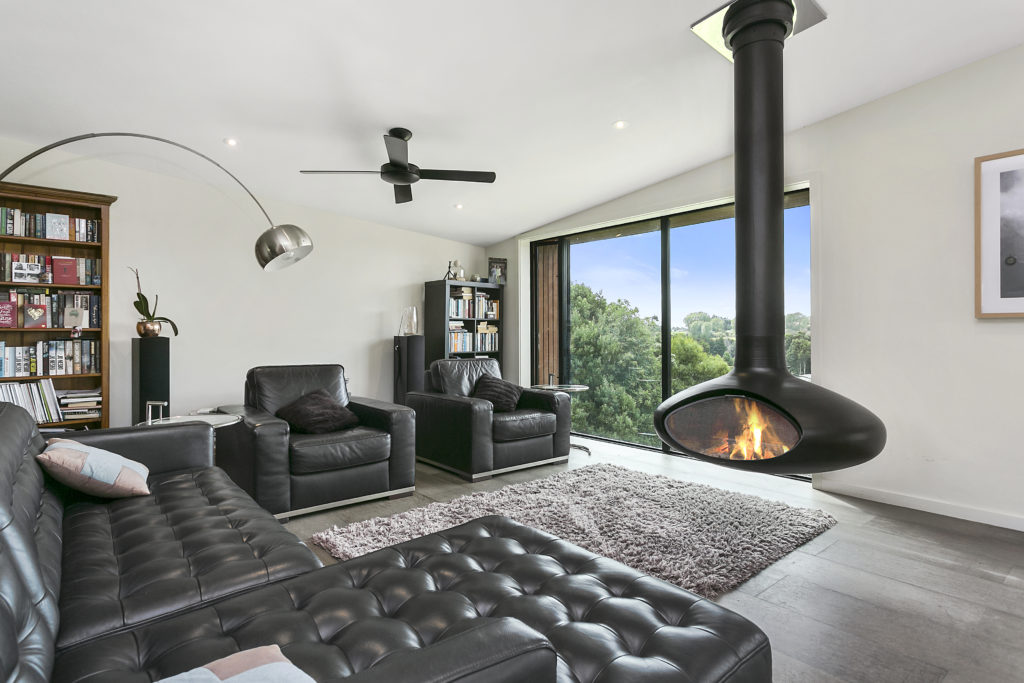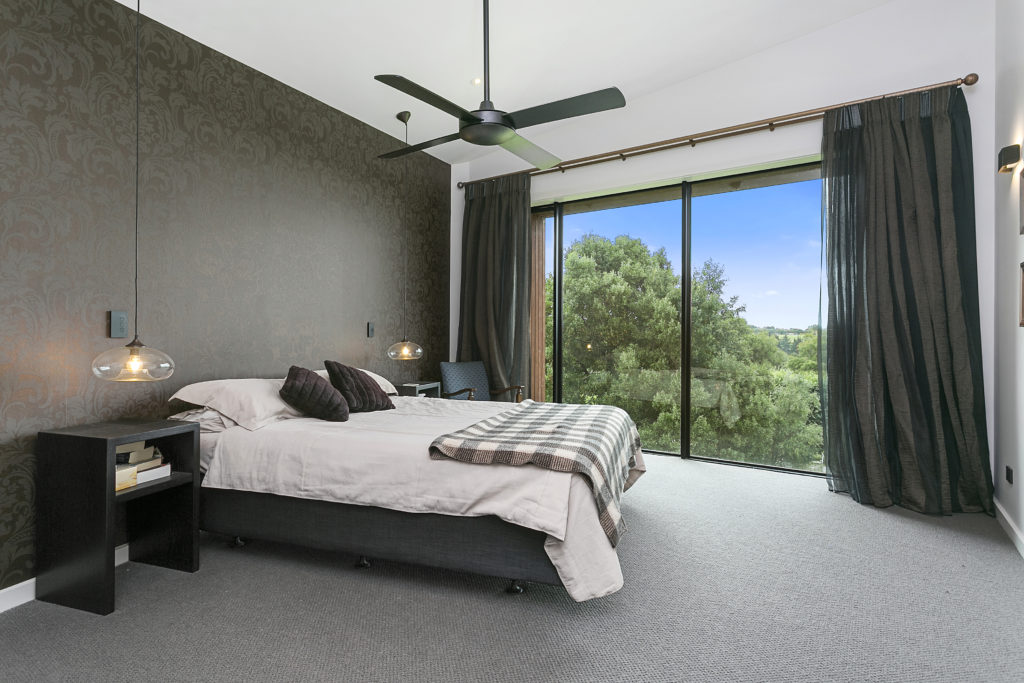 Pukirimu Lane
This house is one of the more complex architecture builds we have undertaken.
We worked with Kerry Young from KY Builders, to build this house on the side of a steep bank split over four levels.
The open plan living area has easy flow from the kitchen to the main living area with a floating fire place is a feature you don't see in every house. The feature cedar wall running from the kitchen to the entrance door has a concealed door into garage and the kitchen island unit is a pre-formed polished concrete island unit, which had to be man handed in place on a challenging site.
The exterior cladding is random width Eurostyle Snaplock cladding with a concealed garage door with a pattern to match wall cladding. There is Random width vertical cedar cladding to give contrast to the Snap lock cladding and cedar screen over the north facing windows.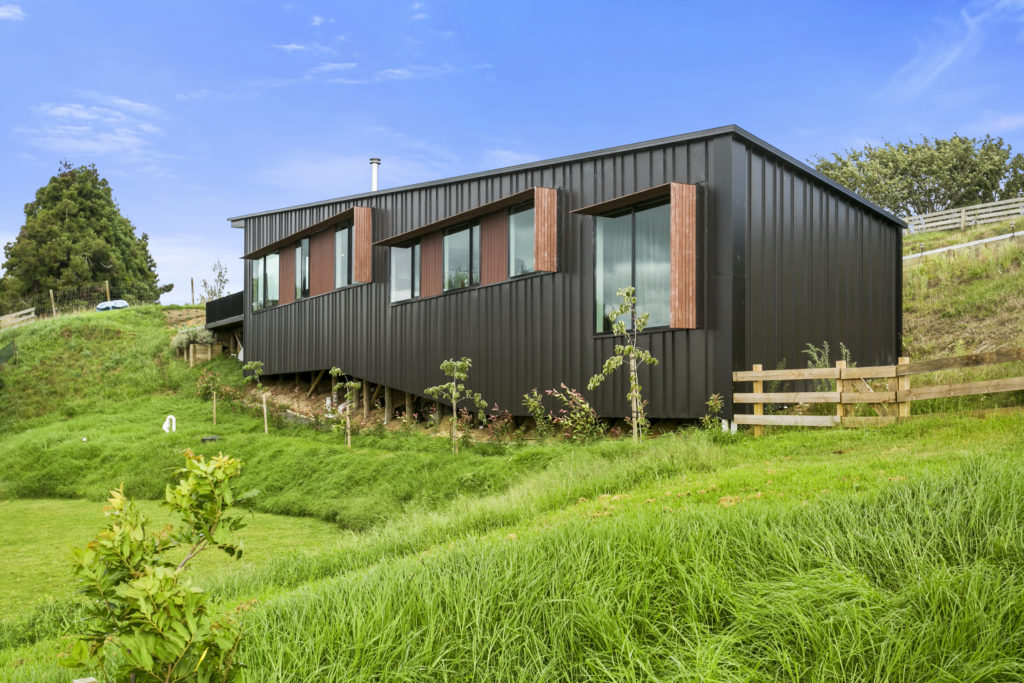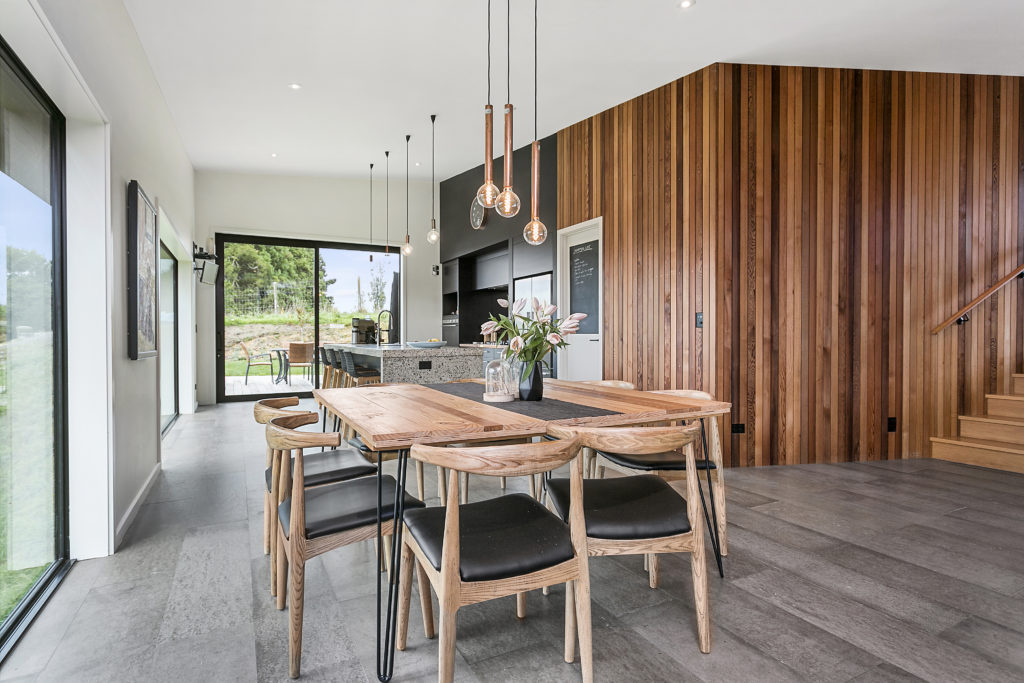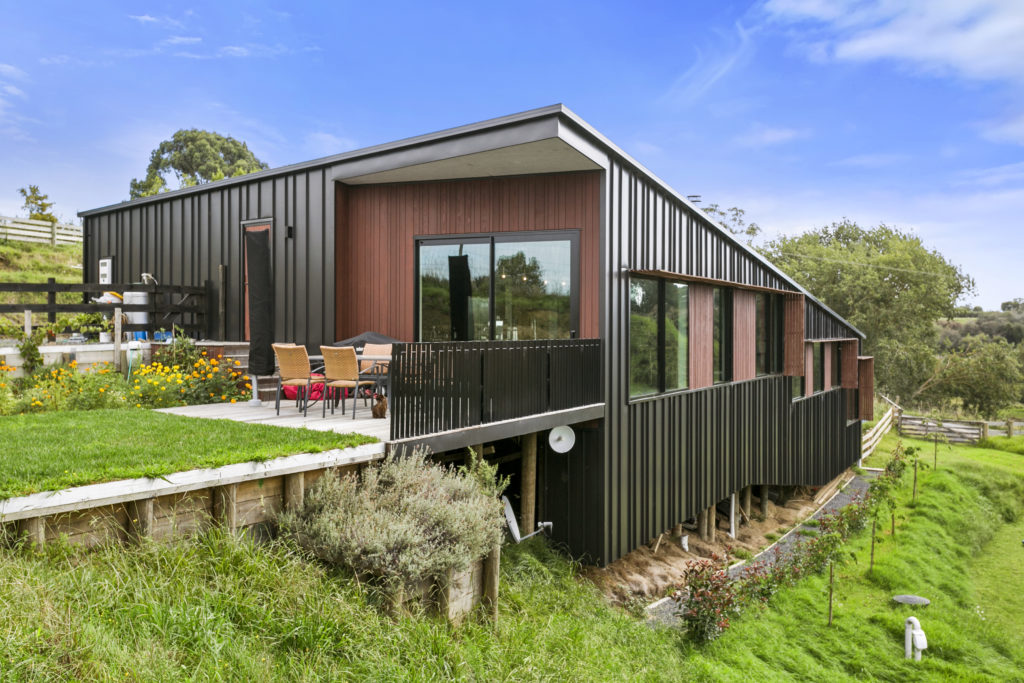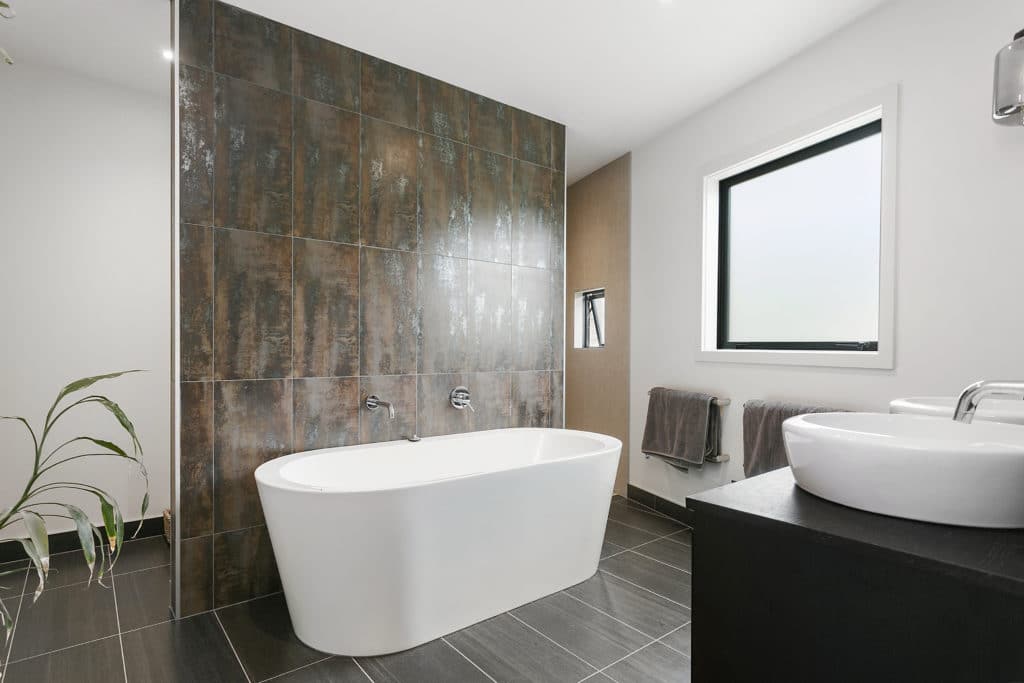 Dunn Residence
Built with family in mind this Manor Stone brick 507m2 home has plenty of room.  This home features a large open plan kitchen and dining area with bifold doors to allow plenty of outdoor entertaining and includes four bedrooms plus two Guest rooms with ensuites.
The external cladding is a Manor stone brick veneer cladding with Cedar rusticated weathers boards for contrast. The roof is a concrete tiled roof helping to reduce the noise of the rain.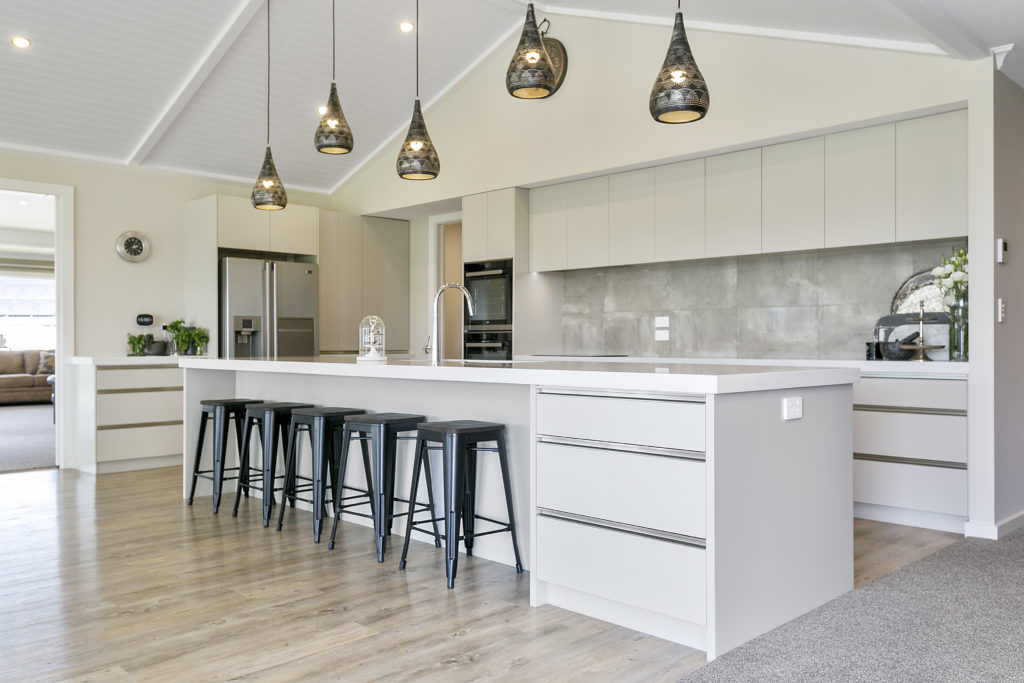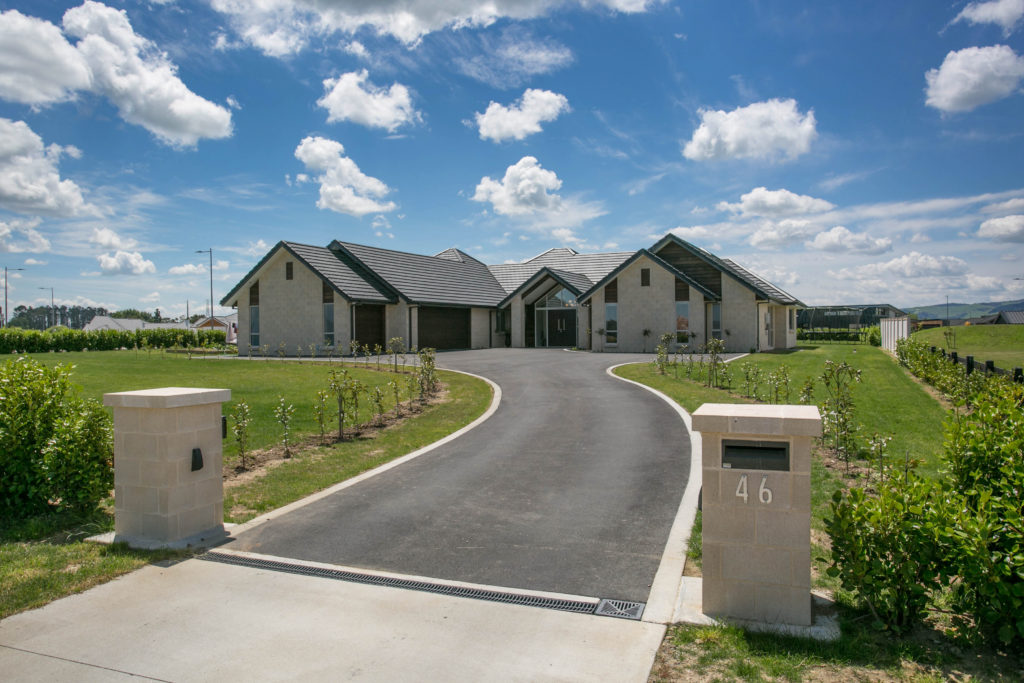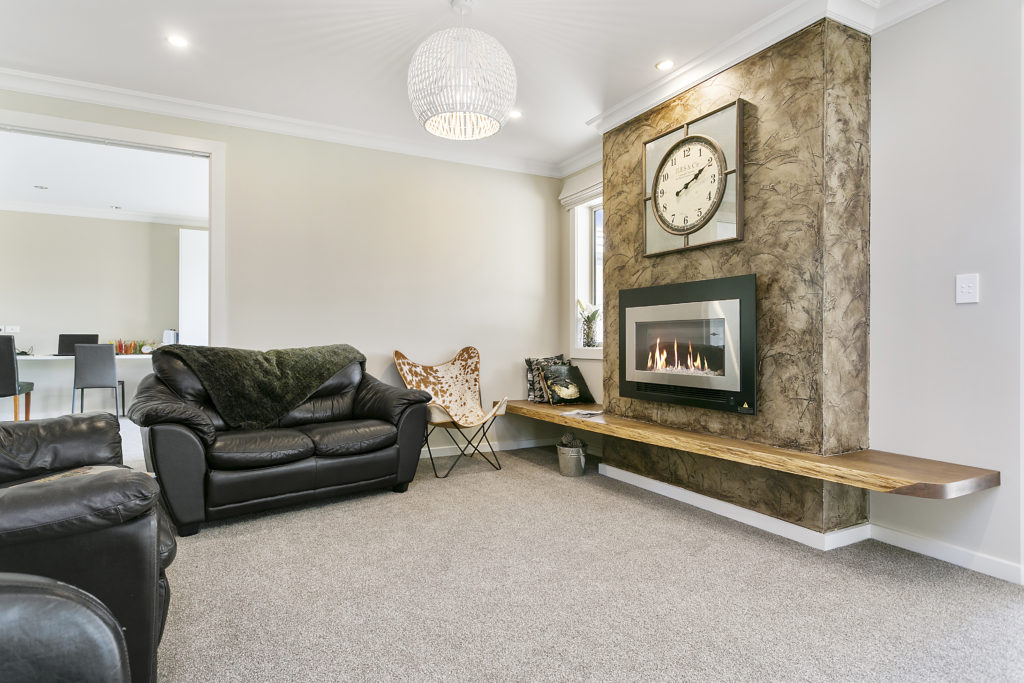 Why Choose us
GD Pringle Building provides great customer service with exceptional communication and a transparent building process. We strive to achieve your complete satisfaction and to exceed all your expectations from concept throughout completion.

Professional Team
A trade qualified Licensed Building Practitioner will oversee your build. We always have a ratio of one builder to two apprentices on-site, and we ensure all workmanship is held to the highest standard.

Quality
We only work with select subcontractors and suppliers that meet our high standards. To guarantee the overall quality of your project, we scrutinise each stage of the build against our quality control checklist.

Communication
Open communication is paramount throughout your project and after its completion. We will provide you with a 24/7 access to our project management software as well as a daily site log, weekly site summary, weekly onsite meetings and prompt response to any correspondence on time.

Timeline
We will provide a detailed construction timeline at the start of the job and will update it weekly to ensure you know when each stage of the build is happening. If the timeline moves, we will provide you with the new completion dates and the reason for the change in writing.

Fixed Price Contract
Nobody likes unpleasant surprises. For your complete peace of mind, we will provide a detailed scope of works with a fixed price contract, including a breakdown of milestone payments.

Post Completion Care
Once we have completed your new home, we will provide you with the warranties and maintenance information for all the materials and products supplied under our contract. Over the 12 months maintenance period, we will contact you to arrange for three post-care inspections.
The best guarantee in your town!

SEE WHAT OTHERS ARE SAYING
It's all good hearing from us, but it's our clients that tell the real story. Read some of our testimonials below and if you would like to speak to a previous client just reach out and we will put you in touch.
"No hesitation in engaging George's services again"

"We partnered with George and his team at GD Pringle Builders to transform The Henley Hotel in Cambridge to an expanded and updated thoroughly modern country hotel.
From our initial meeting with George right through to completion of what is now an absolutely stunning property, it was a collaborative process. We felt the project was in safe hands when absent from site and George was outstanding at keeping us updated on progress and when obstacles did present themselves, there was always a workable option presented. His team of builders were professional and a pleasure to have on site. George was also adept at dealing with our architects, council and the many complex compliance issues that face a commercial build project.
We have been involved in many building projects and would highly recommend George and his team and would have absolutely no hesitation in engaging George's services again."
– Darryn and Brent
"We would highly recommend GD Pringle Building Ltd"

We would highly recommend GD Pringle Building Ltd for your future home. We have been so pleased with the high standard of workmanship of George and his team and he made our first experience of building a much easier process than we imagined.
George demonstrates professionalism, attention to detail and an approachable, easy going manner. He was happy to show us some of his previous builds to view his work and give us an idea of design elements and materials as we progressed. He also had innovative suggestions and advice in terms of making our ideas work and adapting to challenges.

George managed all of the subcontractors and ensured that their work was of a very high standard. He was happy to liaise between us and attended all decision-making meetings when they occurred.

We were always welcome on the building site and George and his team were happy to answer any questions or concerns that we had. He was always easy to contact and would regularly keep us informed about progress. Communication is a real strength for George.

We have no hesitation in recommending George to anyone interested in building a house."
- Scott and Sarah Monkley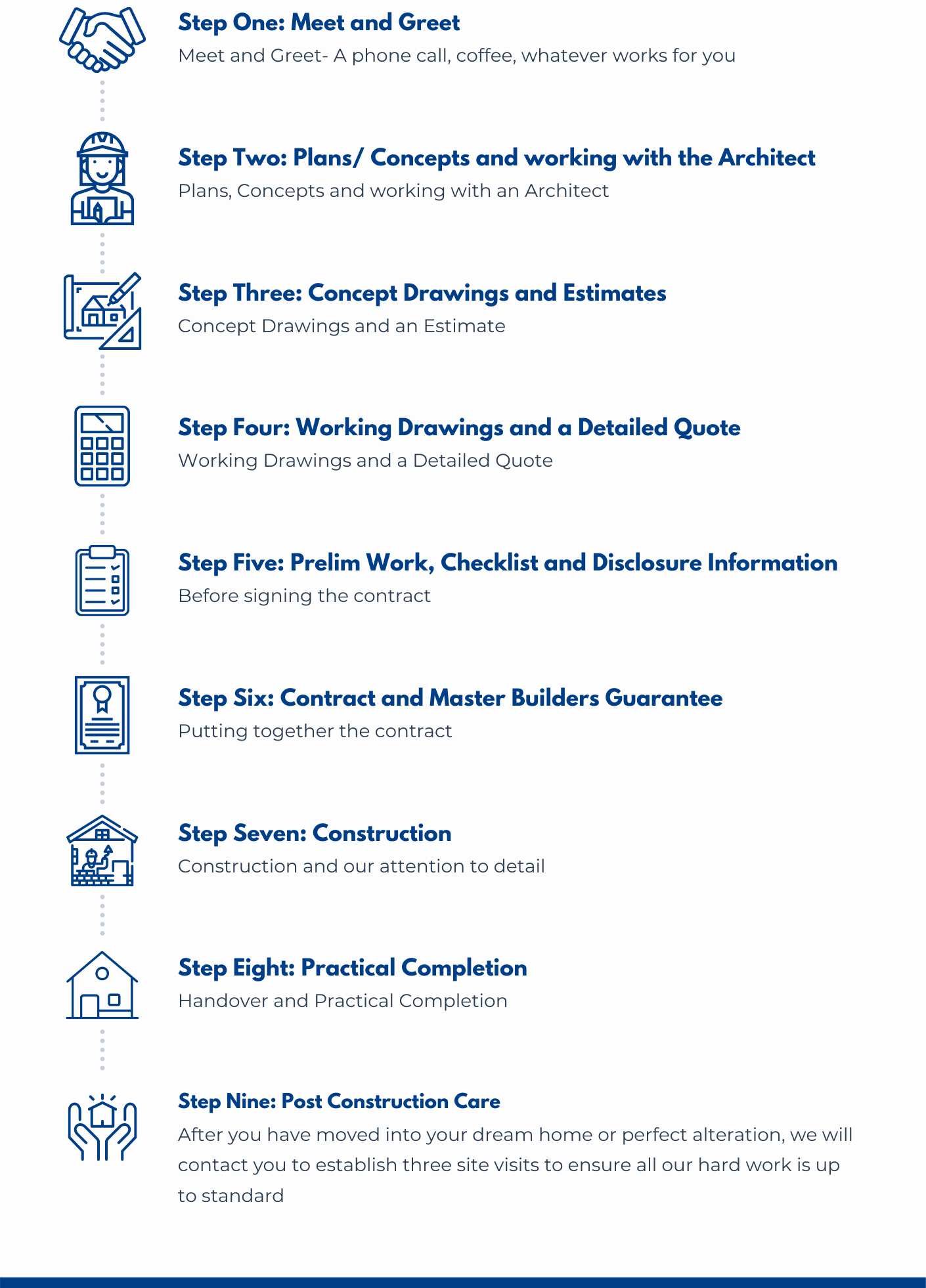 ​WHAT ARE THE NEXT STEPS FROM HERE?​

Request a FREE Consultation
The first step is to have a 100% FREE no-obligation consultation with George. Whether you're just starting to plan or you're nearly ready to start your build, we can help you out.

Receive a FREE gift*:
A professional clean of your home valued at $1,000 leaving your home sparkling and ready to enjoy.
*When you decide to contract GD Pringle to work on your project.
Request a consultation
Our director, George Pringle, will personally conduct the session, which is normally valued at $300. However, we are offering the session FREE to people that are seriously considering building a dream home to help them make informed decisions towards the next step.