GD Pringle Building provides great customer service with exceptional communication and a transparent building process. We strive to achieve your complete satisfaction and to exceed all your expectations from concept throughout completion.

Professional Team
A trade qualified Licensed Building Practitioner will oversee your build. We always have a ratio of one builder to two apprentices on-site, and we ensure all workmanship is held to the highest standard.

Quality
We only work with select subcontractors and suppliers that meet our high standards. To guarantee the overall quality of your project, we scrutinise each stage of the build against our quality control checklist.

Communication
Open communication is paramount throughout your project and after its completion. We will provide you with a 24/7 access to our project management software as well as a daily site log, weekly site summary, weekly onsite meetings and prompt response to any correspondence on time.

Timeline
We will provide a detailed construction timeline at the start of the job and will update it weekly to ensure you know when each stage of the build is happening. If the timeline moves, we will provide you with the new completion dates and the reason for the change in writing.

Fixed Price Contract
Nobody likes unpleasant surprises. For your complete peace of mind, we will provide a detailed scope of works with a fixed price contract, including a breakdown of milestone payments.

Post Completion Care
Once we have completed your new home, we will provide you with the warranties and maintenance information for all the materials and products supplied under our contract. Over the 12 months maintenance period, we will contact you to arrange for three post-care inspections.

Own It
GD Pringle Building takes an Own It policy to the whole project; the good, the bad, and the ugly. We understand this a huge investment for you, but it is a huge investment in our time and resources as well. There is a no better feeling than taking design on drawing and turning it into reality.

Attention to Detail
Our team takes great pride in our quality and workmanship. Our attention to detail is outstanding, and we have developed proven systems and a quality checklist to ensure your job runs smoothly and is of the highest standards.

Communication
GD Pringle Building strives to provide open communication between clients, sub-contractors, and builders. Transparent communication ensures that all parties are well informed and on the same page, and the project runs well and to a high standard. We are not afraid to have the courageous conversations when required.

Teamwork
There is no "I" in Teamwork. It takes the whole crew, from the apprentice on-site to the Project Manager, to deliver a successful project. We cannot achieve this without the collaboration of the clients, sub-contractors, and suppliers.

Continuous Improvement
We are passionate about training our staff. All our apprentices are training for the trade certificate. As they move through their building career, we encourage them to carry on with further education. With this continuous improvement in mind, we review our process at the end of each job and make the required adjustments to make sure we are giving our clients the best possible service.
​WHAT ARE THE NEXT STEPS FROM HERE?​

Request a FREE Consultation
The first step is to have a 100% FREE no-obligation consultation with George. Whether you're just starting to plan or you're nearly ready to start your build, we can help you out.

Receive a FREE gift*:
A professional clean of your home valued at $1,000 leaving your home sparkling and ready to enjoy.
*When you decide to contract GD Pringle to work on your project.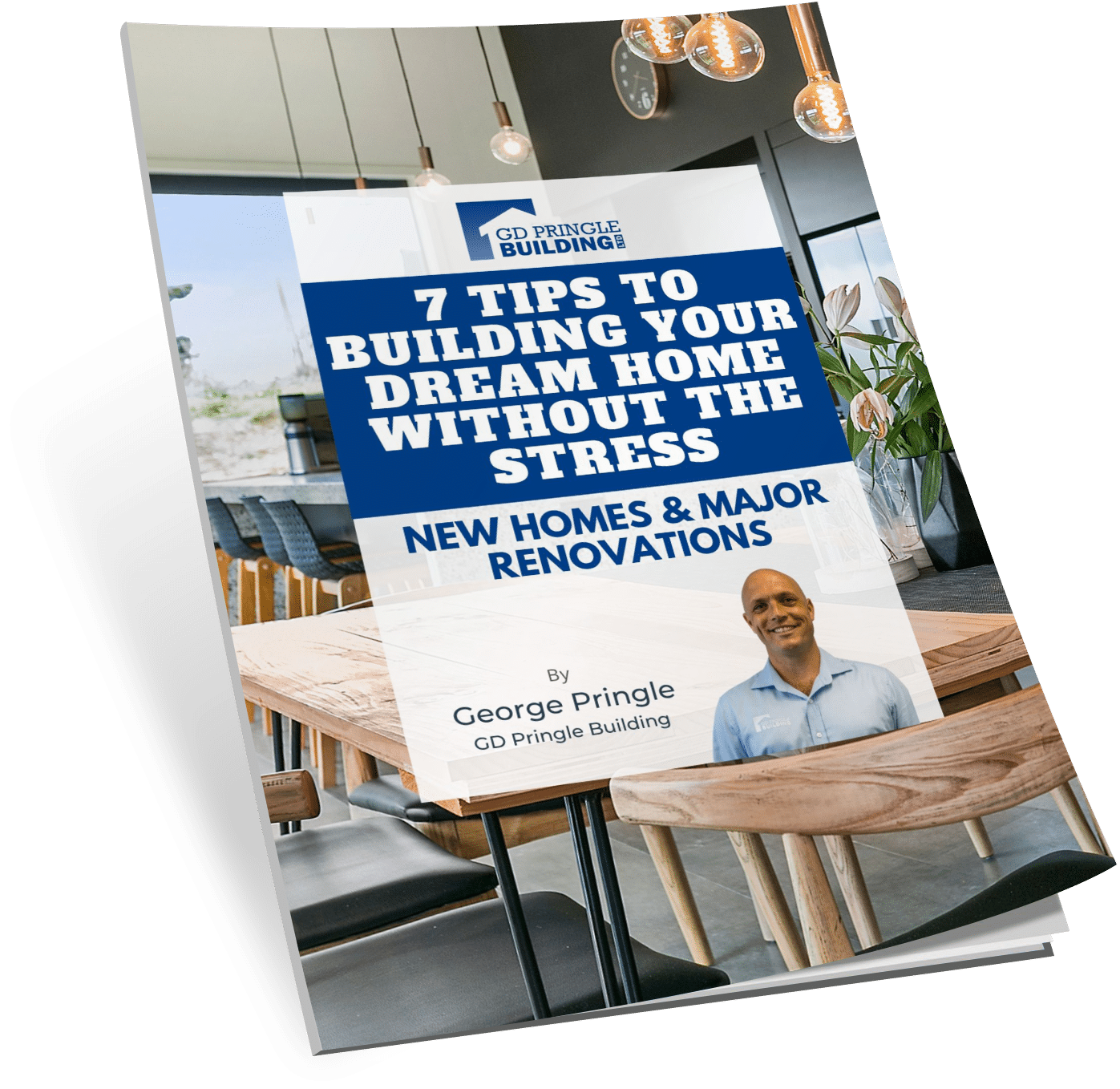 Request a consultation
Our director, George Pringle, will personally conduct the session, which is normally valued at $300. However, we are offering the session FREE to people that are seriously considering building a dream home to help them make informed decisions towards the next step.